At Oriental Press we understand the need to minimise the impact of our operations on the environment. We recognise the importance of sustainable sourcing and are committed to our internal policy for social and environmental responsibility.
As part of this policy we hold the following certifications at our site in Dubai.

14001 - Environmental Management System
Oriental Press is proud to hold the certification for the Environmental Management Standard ISO14001 which rewards responsible and effective ecological behaviour. It certifies that Oriental Press implements, maintains and improves an environmental management system.

FSC® chain of custody
Oriental Press is FSC® chain of custody certified. FSC® chain of custody certification verifies that FSC-certified material has been identified and separated from non-certified and non-controlled material as it makes its way along the supply chain.

SMETA approved
Oriental Press is a SMETA approved supplier and act in accordance with rules set by Jebel Ali Free zone and the Environmental, Health and Safety QIMS policy.
Within the Oriental Printing Group in Bahrain we are proud to hold the following accreditations.

ISO 9001 - Quality Management System
ISO 9001 sets out the criteria for a quality management system to be met within a company.  As a certified organisation, it helps us gives our customers the confidence that they will receive consistent results time after time from our products and services.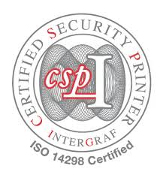 ISO 14298 - Management of Security Printing Processes
ISO 14298:2013 specifies a set of security printing management system requirements. As a certified organisation we ensure that our customer security requirements are met in compliance with the highest available standard for the management of security printing.

BS OHSAS 18001 - Occupational Health and Safety Management System
BS OHSAS 18001 is a framework for an occupational health and safety (OHS) management system and is a part of the OHSAS 18000 series of standards. By complying with this standard it guarantees that OP have put in place the policies, procedures and controls needed for our organisation to achieve the best possible working conditions and workplace health and safety standards.

ISO 27001 - Information Security Management System
Information Security Management System is a systematic approach to managing and ensuring the continuity of the security of all relevant information within the company. A risk management approach is applied on information relating to all stakeholders, processes, and IT systems. By complying with this standard, we ensure that we are committed to increase reliability and security of our systems and information and to improve customer and business partner confidence

FSSC 22000 - Food Packaging Manufacturing
As a certified organisation we ensure that our customer food safety requirements are met in compliance with FSSC 22000, a GFSI (Global Food Safety Initiative) recognised program.